Balizas para túneles
Metrolight ofrece luminarias LED para iluminación, señalización y guiado de emergencia en túneles.
Balizas túneles
Las Balizas túneles Metrolight, son la mejor opción para señalizar el trazado en túneles, debido a su alto rendimiento lumínico y bajo consumo, fabricadas en aluminio o ABS muy resistente al impacto y resistente al fuego UL94VO (Standard for Safety of Flammability of Plastic Materials), permiten sincronización, modo fijo, intermitencia o secuencial, control de intensidad, prácticamente sin mantenimiento, fuente de alimentación para unidad de 24V y controlador.
Balizas con Iluminación Led
El uso de tecnología LED combinada con una profunda experiencia en el diseño y producción de balizas específicas para señalización túneles, ofrece un alto grado de innovación en estos productos. El bajo consumo de energía y el largo ciclo de vida de los productos electrónicos de seguridad vial de Metrolight dan como resultado un alto valor económico.
Balizamiento luminoso en túneles
El balizamiento aumenta la seguridad vial en túneles mediante la señalización activa en ambos sentidos de la marcha. Las balizas túnel Metrolight, proporcionan la información necesaria para detectar la orientación y sentido de la marcha en el túnel y por tanto su seguimiento. Los leds utilizados en las balizas túnel Metrolight son de alta intensidad.
Balizas de túnel lumínicas
El diseño de las Balizas de Túnel Metrolight abarca desde soluciones standard hasta soluciones específicas para adaptarnos a las necesidades del proyecto tanto para túneles como para autopistas, carreteras y viales.
Realizamos los proyectos lumínicos necesarios para la adecuación de nuestras balizas en el entorno elegido y las características necesarias.
---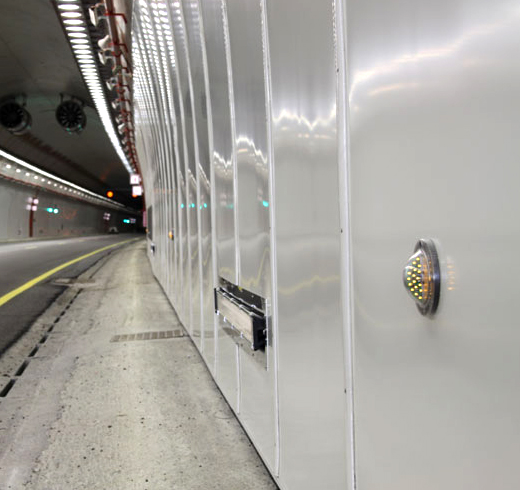 ---
---
Además de balizas solares, contamos con numerosos tipos más de balizas para cumplir cualquier necesidad
VEA: Balizas CARRETERA, señalización de PASOS DE CEBRA, PARKING, Balizas para TÚNELES, Baliza Señalización TRANVÍA.