Iluminación para frigoríficos
Luminarias para frigorificos.
Iluminacion Estanterías de Múltiples Mercancías.
Iluminación Superior para Cámaras Frigoríficas y Almacenes.
Luminarias Diseñadas para Interior de Cámaras Frigoríficas.

---
Luminaria para Cámaras Frigorificas -35º
Progressive Down Light 3
Puede instalarla una sola persona y no necesita inspecciones del lugar.
Ahorra hasta un 84% de energía comparado con luminarias típicas HID.
Placa de cubierta – Se monta directamente y cubre los cortes hechos en el techo de la luminaria HID a reemplazar, eliminando la necesidad de retoca o pintar el techo, permitiendo un acabado perfecto.
Reflector progresivo – Direccionando la luz hasta las zonas de servicio, ilumina con más suavidad el entorno sin producir cualquier efecto de deslumbramiento.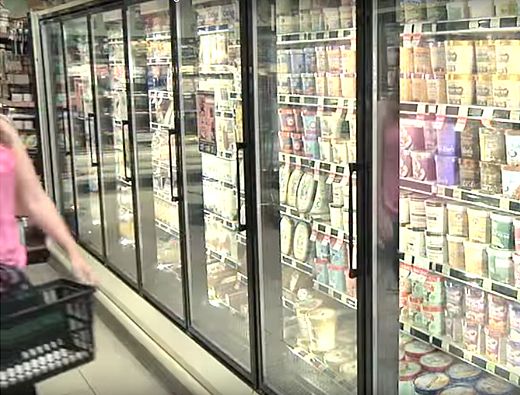 Lámparas para cámaras de refrigeración
Cold Door, iluminación para las puertas del refrigerador, sistema de iluminación, nítida y uniforme a través de las puertas de cámaras frigoríficas.
Verdadera luz blanca emitida, ilumina el embalaje del producto visualizándose de la manera más optima.
La particular distribución de la luz elimina el deslumbramiento.
Una sola fuente de alimentación para una unidad de refrigerador típico de 5 puertas.
Iluminación fría al tacto que aumenta la eficiencia del refrigerador.
Hasta un 85% de ahorro de energía total respecto al resto de iluminación convencional.
Cold Door 2, lighting system provides crisp, uniform illumination across doors for walk-in coolers/freezers and remote glass-door reach-ins. Adapts to varying case styles and shelf depths.
Illuminates product facings at narrow beam angles while reducing glare
Powers up to a 5-door frame with a single power supply
Up to 85% total energy savings over typical fluorescent fixtures
Las luminarias están ocultas a la vista, dejando sólo por tanto la mercancía para captar la atención de sus clientes.