Lighting for refrigerators
C-Store cooler Lighting. Cold Stores
Multi-deck Lighting Mechandise
Overhead Cooler and Stock room
Luminaires designed for coolers/freezers

---
Led Luminaire for Cold Rooms -35º
Progressive Down Light 3
Installs with one person and does not require site surveys.
Saves up to 84% energy compared with typical HID fixtures.
Cover Plate – Mounts directly to or hides the footprint of the previous HID Fixture, eliminating the need to touch-pad, paint, or install custom trims.
Progressive reflector – Focusses light on task areas whiles softly illuminating peripheral area for increased safety an security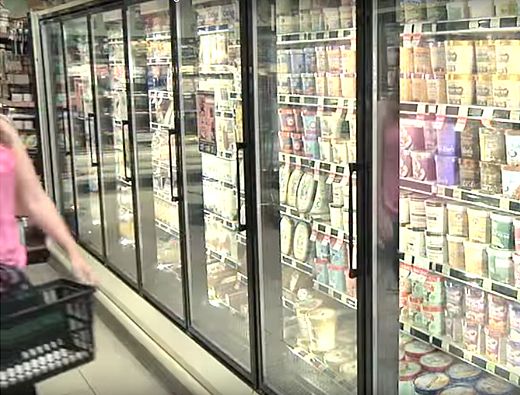 Illuminating C-store cooler doors
Cold Door, lighting for refrigerator doors, illuminated, clear and uniform across freezer doors.
True emitted white light illuminates product packaging displayed in the most optimal way.
The particular light distribution eliminates glare.
A single power supply for a typical refrigerator 5 door unit.
Cold light touch that increases the efficiency of the refrigerator.
Up to 85% total energy savings compared to other conventional lighting.
Cold Door 2, lighting system provides crisp, uniform illumination across doors for walk-in coolers/freezers and remote glass-door reach-ins. Adapts to varying case styles and shelf depths.
Illuminates product facings at narrow beam angles while reducing glare
Powers up to a 5-door frame with a single power supply
Up to 85% total energy savings over typical fluorescent fixtures
The luminaires are hidden from view, leaving only the goods thus to capture the attention of your customers.