Light signals
We have a variety of Luminous Signs, arrows and directional panels to offer greater Road and Urban Safety in all types of conditions.

---
Guardrail solar warning light. ML-GRS-19 SOLAR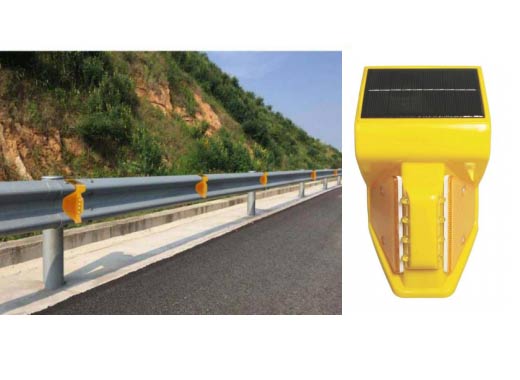 DIMENSIONS:
SPECIFICATIONS:
Material: Policarbonato
Weight: 365g.
Working Temperature: -10ºC/+50ºC
Acrilic Reflector: Film optional/
Solar Panel: 5V 190mA
Lighting Time: Aprox 70h After fully charged.
---
Pedestrian crosswalk traffic sign with infrared detector.
DIMENSIONS:
SPECIFICATIONS:
3M Engineer grade reflective sheet Blue Backround, White triangle, black pedestrian ( 8 Lines)
Led color: White
Solar Panel: Mono-Crystalline silicon,12v/5w
Lithium Battery: 7.4v/ 6.6AH
Sensor:Infrared Sensor for pedestrian
Brackets and Screws included
---
Solar Led crosswalk warning sign.
Warning to the driver, suitable for busy areas, areas of low visibility, shopping malls, schools, universities, urban areas of controlled speed, caution signaling, increases safety day and night.
SPECIFICATIONS:
Dimensions: 600 x 600mm x 45mm
Power supply: Solar / 12vdc-24vdc / 230vac
Led Color: Amber, Red, White.
Led: Epistar Lamp.
Reflector: 3M Engineering Grade Reflective. Blue.
Operating Temp: -20ºC to + 65ºC.
Degree of protection: IP 65.
Flash frequency: 45-60 flashes/min.
Power supply options: Solar (Monocrystalline Panel 12v-5w, Lithium Battery 7.4V/6.6Ah) / 12vdc, 24vdc or 230vac.
Led output angle: 45º. Built-in protective lens.
Material: Curved aluminum, front and rear face in aluminum sheet. Guide profiles for anchorage.
Complies with UNE 135-334 standard.
---
Solar led infrared sensor pedestrian sign.
GENERAL CHARACTERISTICS
Shell Material:Painting Metal Plate box
Reflective sheet:3M engineering grade
Li-ion Battery:11V/4.4AH or custom made
Solar Panel:15V/5W or custom made
Power: ≤2W
Flashing Frequency: 40times / min or custom made
Duty Ratio :1:3
Visibility :≥800 m
Sensing Distance:≤6m
Sensing Angle: Horizontal 110 °, vertical 60 °
Transmission Frequency:433MHz or 315MHz
Receiving Distance :≥50M(wide)
Working temperature:-20℃ ~ 55℃
Working Humidity:≤90%
LED Life:100000 hours
LED Color:yellow/red or other color
LED Quantity:60pcs or custom made
Metal Plate Box Size: 600*300*75mm
Pedestrian Sign Size: 600*600*2.0mm
Working time: Work 120 hours after full charged.
---
Signal Radar Detector Maximum Speed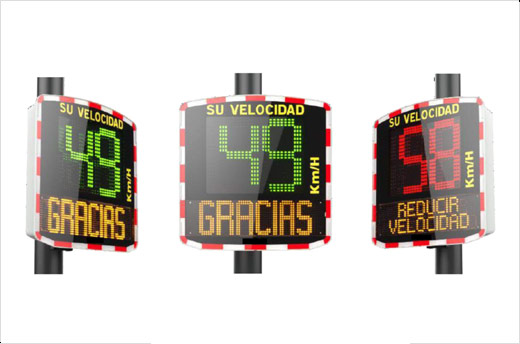 GENERAL CHARACTERISTICS
Reference: ML-LD650
Solar panel: 18v 60w
Operation / Execution: 66 hours
Frequency: K Band 24.15Ghz ± 100Mhz
Detection error: ± 1kmh
Speed ​​displayed on Panel: 10kmh-199Kmh (Red and Green Led)
Maximum consumption: 25w
Average consumption: 14,5w
Degree of protection: IP 54
Operating temperature: -30ºC / + 75ºC
Programming: Via remote control.
---
Pedestrian Step LED Signal
SQUARE SIGNAL
Material: Box: Stainless steel
Front: Aluminum
LEDs type: 5mm
Box dimensions: 70 x 70 x 7,5 cm
Power supply: 12V DC / Solar
Reflective material (vinyl) 3M ref.: 580 E
Fiber Optic: Pmma 0,75 mm
Leds protection lens (+40% luminosity)
TRIANGULAR SIGNAL
Material: Box: Stainless steel
Front: Aluminum
LEDs type: 5mm
Box dimensions: 74 x 66 x 7,5 cm
Power supply: 12V DC / Solar
Reflective material (vinyl) 3M ref.: 580 E
Leds protection lens (+40% luminosity)
Signal danger Tram Pass
GENERAL CHARACTERISTICS
Current controller (Extends the useful life of the LED)
High reliability LEDs
High brightness LEDs
Visible at a great distance
Vinyl 3M high reflectance
Leds protected by polycarbonate lenses
Low maintenance
High day / night brightness
Easy installation
24 Hours operation
---
Directional Arrow Lighting Panel
Led Directional Arrow Panel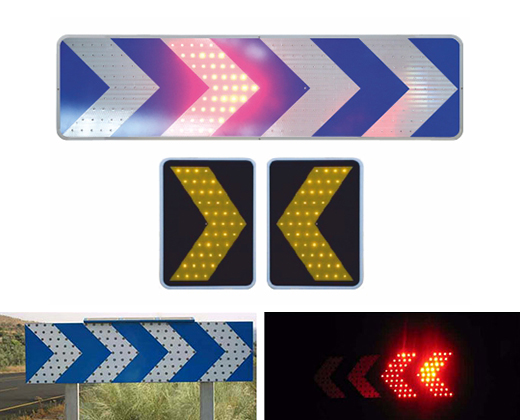 SOLAR PANEL:
Type: Silicio Glass.
Maximun power: 6 W.
Maximun Voltage: 9 Volts.
Maximun Charge: 516 mA/h.
BATTERY:
Type: Lead High Performance.
Maximum Voltage: 6 Volts.
Capacity: 20 A/h.
LEDS:
Type: High intensity 8mms/1500cd.
Color: Red and Ambar.
Number of LEDS: 144 LEDS y 54000 mcd per arrow panel.
WORKING HOURS:
24 Hours (date and night).
Secuential Flashing: 1 > 2 > 3 > 4.
Number of flashes: 60 flashes +/-10%.
DIRECTIONAL PANEL:
4 Arrows.
Manufactured in Aluminium Watertight 1650 x 450 mms.
REFLECTIVE:
Dynamic effect, Vision from long range, high impact resistance, especially Sealed waterproof, dustproof and resistant to high temperatures, the direction of the arrow can be left, right or center towards the edges.
---