Metrolight Waterproof Luminaires, for specific environments where quality and safety it is an important factor, it has a simple and functional lines design that adapts perfectly to the different architectural, industrial spaces, tunnels and roads for which it is conceived.
Intelligent Luminaire Guided Light Tunnel and Fire Evacuation / Signaling
Characteristics of Intelligent Evacuation Signals
Material Stainless Steel dimensions: 610 x 467 x 48 mm
Illuminated Pictogram 300 x 300 mm (H X L), DIN 4844
Nichia LED boards (PCB's) White Led
Illuminance> 200 cd / sqm Frontal Pictogram
Led strips Side escape Led Green> 75 cd / m2 adjustable
Fire Emergency Light:> 25 cd -87 to +87 degrees
Viewing distance: 180m
IP65 (EN60529)
IK10
Weight: 10 Kg
Consumption: 13w. 230VAC / 50hz
Operating temperature: -20C + 50C
CE, BAST Approved, RABT 2006 Compliant
For Wall mounting
Possibility of unit supply in 48V.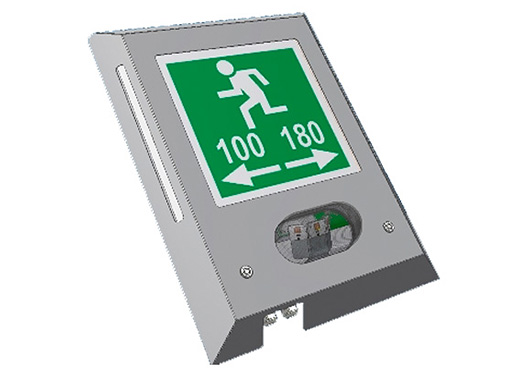 Selection of DIP switches for the operation and regulation mode.
Dip switch 4: Green Light Level ON = 100% OFF = 50%
Dip switch 3: Green light ON = 100% OFF = 75%
Dip switch 2, 1: OFF-OFF mode Light Orientation Fire ON with 230V current
OFF – ON Light Orientation Fire Flashing with current 230V
ON – OFF Light Orientation Fire ON in the absence of 230V
ON – ON Orientation Light Fire flashing in the absence of 230V
---
Tunnel Luminaires

It has excellent lighting performance in relation to its low consumption.
Constant current power supply and emergency kit 90 minutes included in the body of the product.
Direct connection to the electrical network.
Characteristics Guide Led Tunnel Luminaire
Dimensions: 600 x 125 x 85mm
Material: PC + PC Milky, Transparent finish
Power: 29w
Lumen: 3335 lm
CCT: 6750ºK
Angle: 120º
Led: Philips 2835 SMD
Power Supply: Philips + BAC 90 Minutes
Voltage: 100-277VAC
IK: 08
IP65
CRI >80
PF: >0.9
---
Metrolight is specialized in the lighting and signaling of tunnels, led projectors, led studs for the lateral corridors of the tunnels, signage with LED emergency doors for tunnels.