LED Downlight, Focus y Track Light Retail
Metrolight Led Downligh. Designed for Shops, Restaurants, Hotels, Offices, Schools, Airports, Stations, Shopping Centers, Auditoriums, Meeting Rooms. It incorporates high-performance LEDs that exceed a lifespan of 60,000 h.
Led Focus
Eco Led Focus
The Eco LED focus has a CRI of 90 with an angle of 70 degrees.
It can be installed in specific areas to provide good lighting and shine to the product.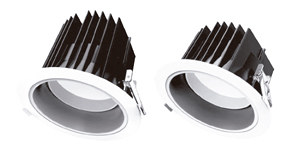 Downlight Led Slim
Downlight 220 – Downlight 168
Los downlight LEDs are indicated for all types of lighting both domestic and professional.
They are the perfect replacement for conventional Luocompacta luminaires in their different versions. With an IP 44 it is designed to work in humid environments.
Track Light Led
Adjustable downlight
The track light LED offers maximum flexibility with a rotation of 350° and a tilt angle of 180°.
Easy to integrate in three-phase rails, it is the perfect commercial solution to light showcases, stores, shopping centers and clothing stores, thanks to its accent light.